Upcoming Events at The Beach YYC
Add Some Sand to Your Fall Plans
October 19, 2023 | The Beach YYC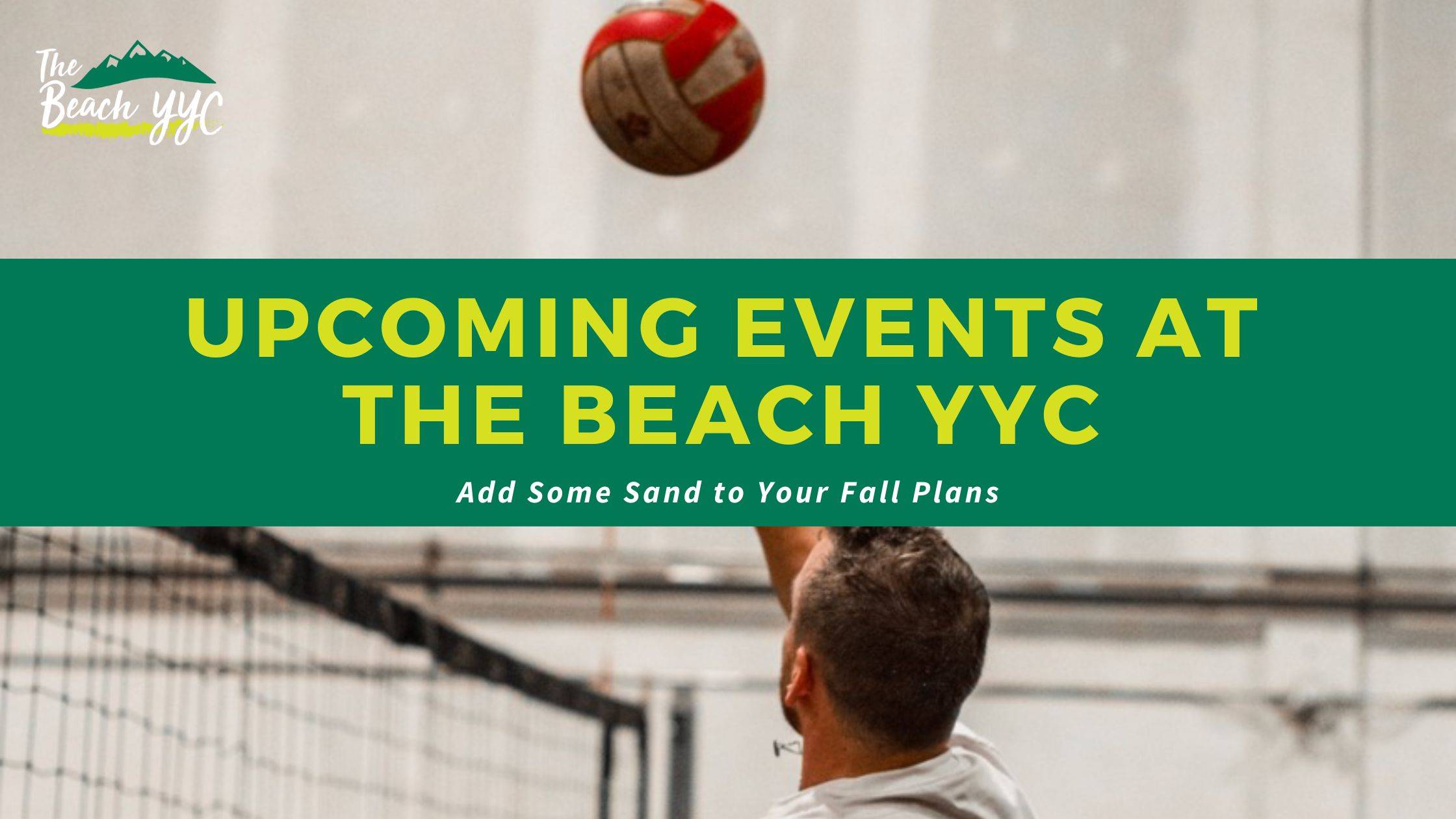 Soaking up the rays of a hot Calgary summer is priceless but just because the sun sets a little
earlier and the days are getting cooler here in the Cow-Town doesn't mean the action isn't
scorching on our soft sand at The Beach YYC!
It can be tricky to schedule some quality time to be active but we've got a fantastic lineup of
events to keep you entertained and engaged all season long.
Our Friday drop-in sessions are back starting on October 13th from 6pm to 10pm and Sunday
drop-in sessions begin on October 15th from 1pm to 5pm. Whether you're flying solo or
bringing your entire crew, it's the best way to bookend your weekend. Prices start at just $18 or
you can take advantage of our drop-in passes for even greater savings!
Admit it, you've been sipping on a beverage, toes dug into the sand, enjoying the breeze on your
skin but still felt something was missing in your life. Being active is great for your physical and
mental health and we're here to help get you going! Starting on October 13th, on Fridays from
5:15pm to 6 pm you can join our adult beach volleyball clinics where expert coaches provide
valuable insights and top-notch training – plus your drop-in fee is included, making it an
excellent deal for all skill levels!
Halloween is one of our favourite annual traditions and this year we've scared up a spooktacular
good time for all wayward souls. On October 28th our doors open at 9am and the games begin at
9:30am. Be sure to wear your most creative costume because there'll be plenty of time to trick or
treat and bob for apples afterward.
If you've been setting and spiking for a while now then you should sign up for our Winter League!
Registration begins on October 16th and the season starts on November 20th. This is
your chance to get competitive, meet new friends (or rivals) and have a great time testing your
strategies out on some of the best players Alberta has to offer.
Registration is currently open for our next Royalty of the Beach tournament. The highly
anticipated Winter Is Coming competition is scheduled for November 4th. Showcase your skills
and earn some well-deserved bragging rights if you're lucky enough to find success and avoid
the chill of defeat.
Beach regulars already know that our ongoing Fall League ends on November 16th but Winter
League (November 20th to February 8th) registration will open soon and the perfect opportunity
to put together everything you've learned so far, build on what you've learned and make lasting
memories of championship glory.
If you're a female-identifying volleyball player under 16 years of age then you can serve, bump,
and slam your way to championship glory on November 19th! Registration for this tournament is
now open, it's the perfect place to test your skills and strengthen your bonds. Some of our
fondest memories are looking back to these types of events, it's where core memories are
formed!
But wait, there's more! As part of our commitment to fun and flexibility you can play Ultimate
Frisbee, Spikeball, Soccer, and Dodgeball or book a corporate event, holiday party, or birthday
bash! There's truly something for everyone at The Beach YYC and we can't wait to see you on
our sand, so contact us to get the ball rolling!